Kable Security Pen and Base Set
23" flexible nylon-coated aircraft cable attaches the 6 1/2" pen to a 3"W X 2 1/8"D X 1 1/4"H matching base, pen has tamper-resistant locking feature to protect Jumbo Jogger pen refill, set is available in three colors - gold finish, silver finish, and black finish, base can be mounted to counter by double-coated adhesive or hidden screw (both included with set), supplied with Jumbo Jogger Pen Refill with your choice of blue ink with medium point or black ink with fine point. Packaged one pen per set.
Finish Ink Color Vault Number
Gold Black SPKGBK
Gold Blue SPKGBU
Silver Black SPKSBK
Silver Blue SPKSBU
Black Black SPKBKBK
Black Blue SPKBKBU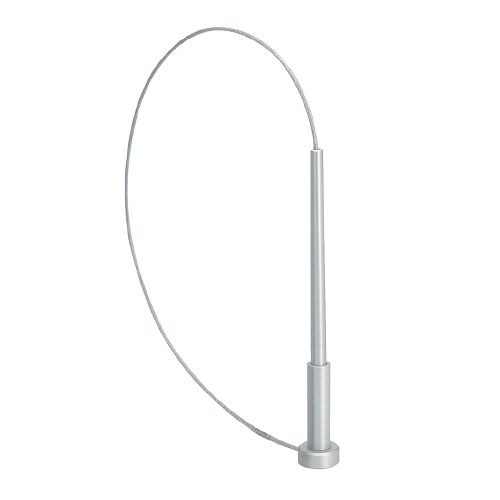 Kable Vertical In-Counter Pen Set
6 1/2" pen is attached to a round base with 23" aircraft cable. Pen set includes wing nut which fastens pen to countertop with a 1 1/2" Philister head machine screw. Other lengths of Philister screws available per request. Use regular screwdriver with Philister screw. Available in silver and black finish with black ink jumbo jogger refill.
Packaged one pen per set.

Finish Ink Color Vault number
Silver Black SPKVSBK
Black Black SPKVBKBK





Re-Trac-To Security Coil Pen and Base Set
Black Aluminum Pen with telephone type plastic coil secures to plastic base. Coil extends to more than 5 feet and coils back to less than 8 inches. Pen has tamper-resistant locking feature to protect Jumbo Jogger pen refill. Available in black color. Base can be mounted to counter by double-coated adhesive or hidden screw (both included with set), supplied with Jumbo Jogger Pen Refill in your choice of blue ink with medium point or black ink with fine point. Packaged one pen per set.

Ink Color Vault number
Black ink SPRBKBK
Blue ink SPRBKBU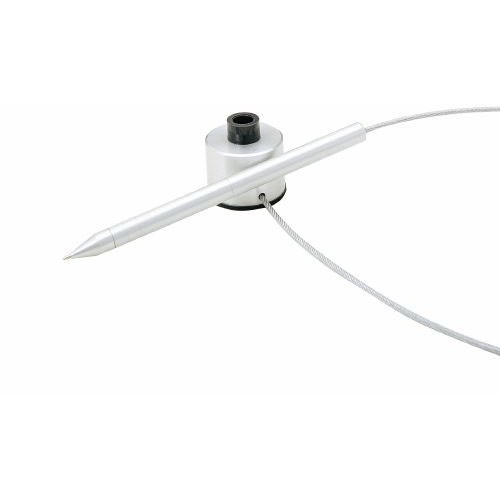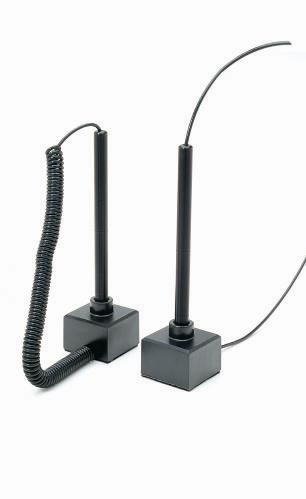 Sentry Counter Security Pens
Aluminum Pen with nylon-coated aircraft cable or retractable telephone-type flexible coil connected to square cube base or round base. Silver finish base is Aluminum and Black finish base is molded plastic. Cable length is 23" and is available in black square cube base, silver square cube base and silver round base. Flexible coil extends to more than 5 feet and coils back to less than 8 inches and is available in black square cube base only. Supplied with Jumbo Jogger Pen Refill in your choice of blue ink with medium point or black ink with fine point. Packaged one pen per set.
Pen style Finish Color Ink Color Vault number
Cube base with coil black black SPSCCLBKBK
Cube base with coil black blue SPSCCLBKBU
Cube base with cable silver black SPSCCESBK
Cube base with cable silver blue SPSCCESBU
Cube base with cable black black SPSCCEBKBK
Cube base with cable black blue SPSCCEBKBU
Round base with cable silver black SPSRCESBK
Round base with cable silver blue SPSRCESBU
Round base with cable black black SPSRCEBKBK
Round base with cable black blue SPSRCEBKBU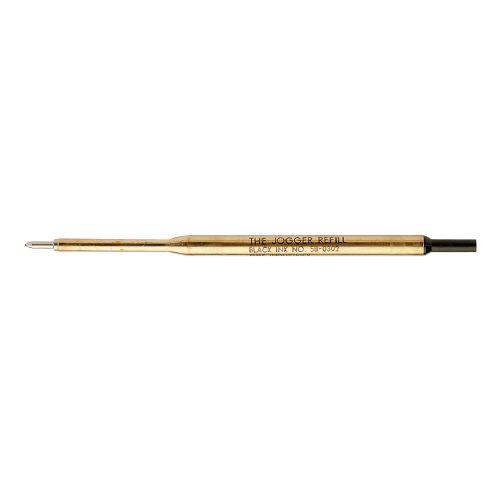 Jumbo Jogger Ballpoint Pen Refills
For Kable, Re-Trac-To, and Sentry Pens above. Extra capacity refills write twice as long as standard refills. Carbide tip construction. Available in Blue and Black ink and with Fraud-Resistant Security Black Ink to protect against tampering from check washing and document fraud. Packed 10 refills per pack.

Ink Color Vault number
Blue, medium point JJBUM
Black, fine point JJBKF
Black, medium point JJBKM
Security Ink Black, fine point JJSBKF




Secure-A-Pen Counter Pens and Replacement Pens
Pen is attached to round base by 24" length chain. Pen features rubberized grip, ridges and antimicrobial protection. Medium Point Pen can be replaced by entire replacement pen with small top chain which snaps onto pen and base. Base has adhesive for mounting. Available in blue or black pen and ink color matches the color of the pen. Pens and Replacement Pens sold individually.

Pen style Pen and Ink Color Vault number
Pen and Base Black SAPPBBK
Pen and Base Blue SAPPBBU
Replacement Pen Black SAPRPBK
Replacement Pen Blue SAPRPBU

Value Pack** Black SAPVPBK
**1 pen and base with 3 replacement pens

Wedgy Pens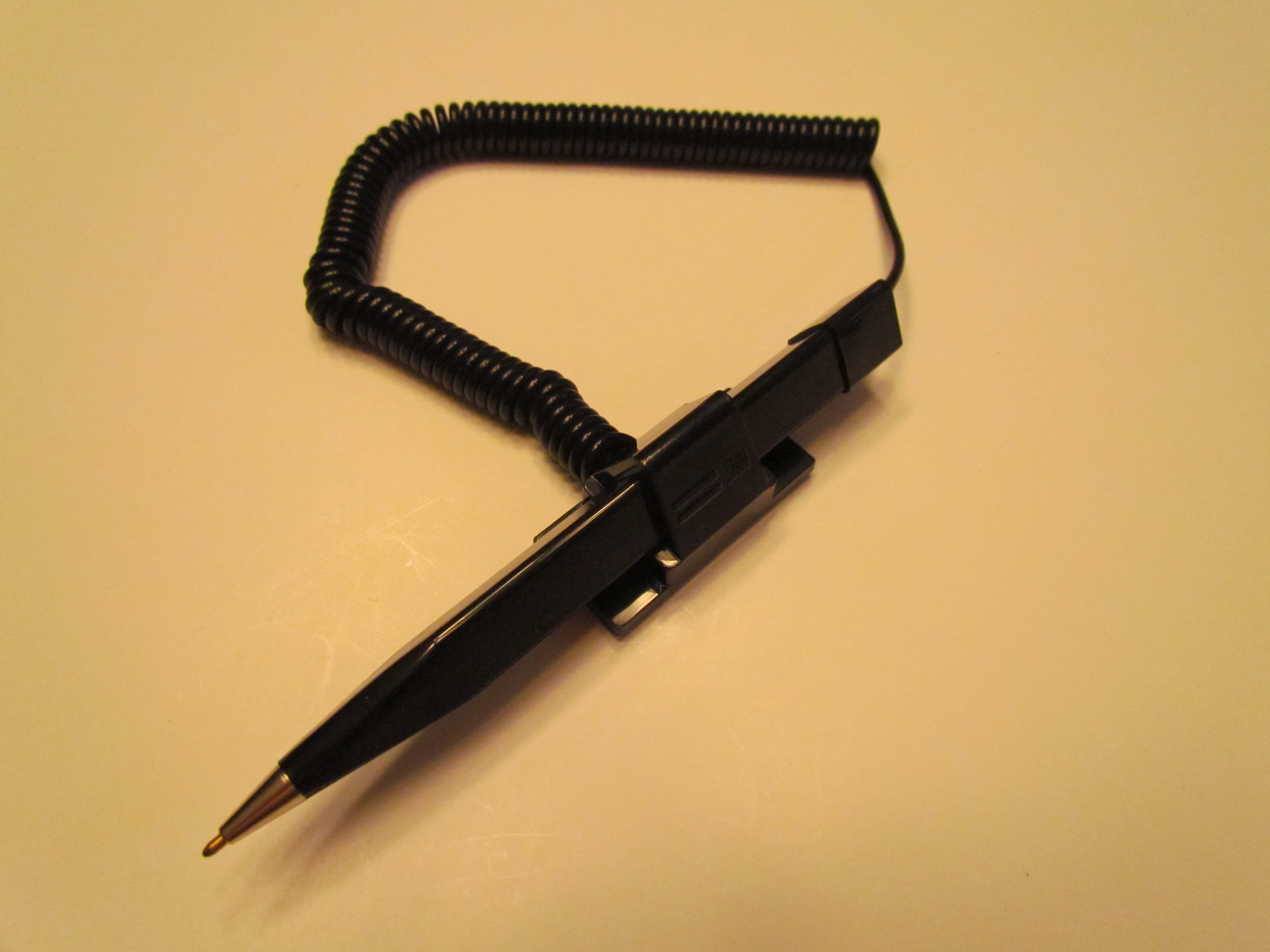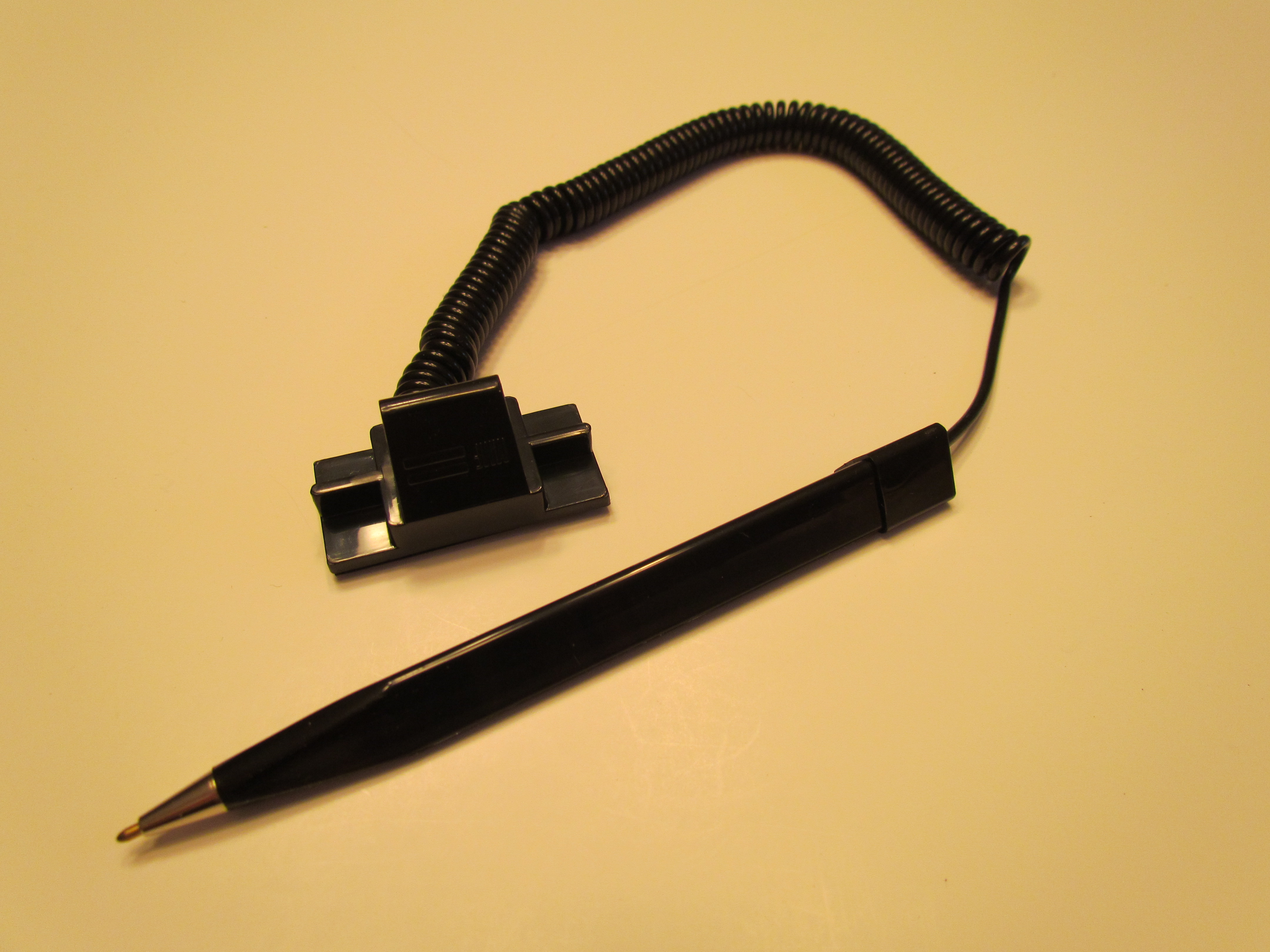 Wedgy Scabbard-Style Pens
Scabbard style allows adhesive base mounting either vertically or horizontally and holds pen firmly in place. Pen with Antimicrobial Protection and is available in black ink, blue ink or with Fraud-Resistant Security Black Ink to protect against tampering from check washing and document fraud. Pens sold individually.

Ink Color Vault number
Black ink, fine point WPSDBKF
Blue ink, medium point WPSDBUM
Security Ink Black, fine point WPSDSBKF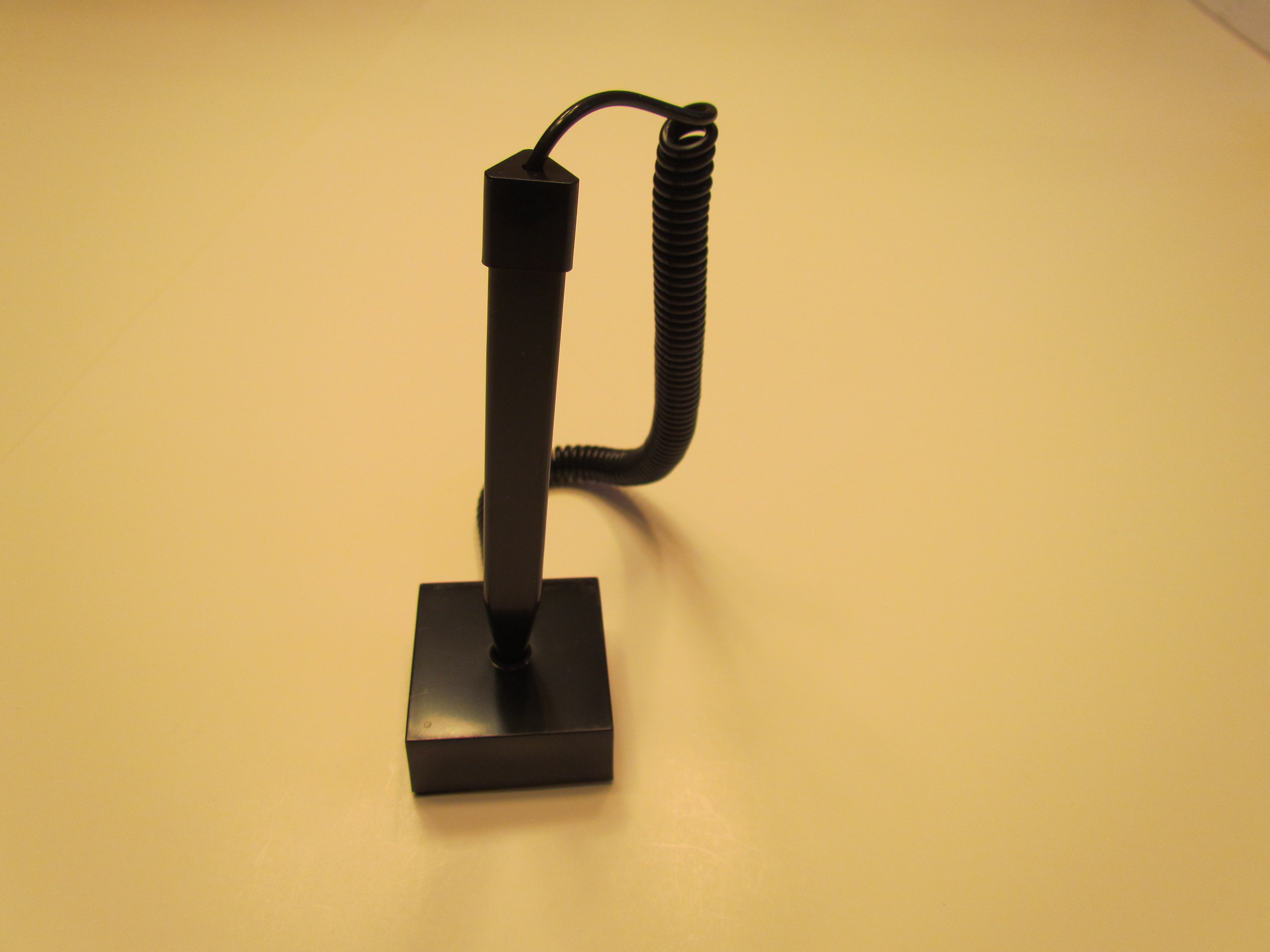 Wedgy Square-Style Pens
Square-style base includes adhesive for mounting. Pen with Antimicrobial Protection and is available in black ink, blue ink or with Fraud-Resistant Security Black Ink to protect against tampering from check washing and document fraud. Pens sold individually.

Ink Color Vault number
Black ink, fine point WPSEBKF
Blue ink, medium point WPSEBUM
Security Ink Black, fine point WPSESBKF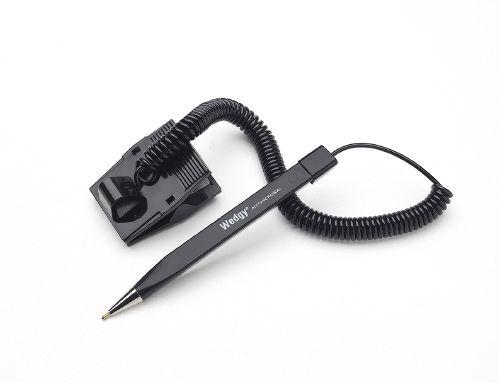 Wedgy Clip Pens
Spring-Loaded Clip for attachment to clipboards, books, paper pads, scorebooks, or furniture. Pen with Antimicrobial Protection and is available in blue ink. Pens sold individually.

Ink Color Vault number
Blue ink, medium point WPCPBUM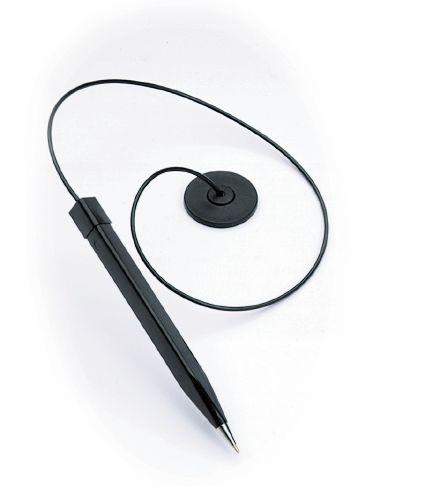 Wedgy Cord Pens
Features 18" length cable cord that connect Wedgy Pen to round base. Round base supplied with adhesive for mounting. Pen with Antimicrobial Protection and is available in blue ink. Pens sold individually.

Ink Color Vault number
Blue ink, medium point WPCDBUM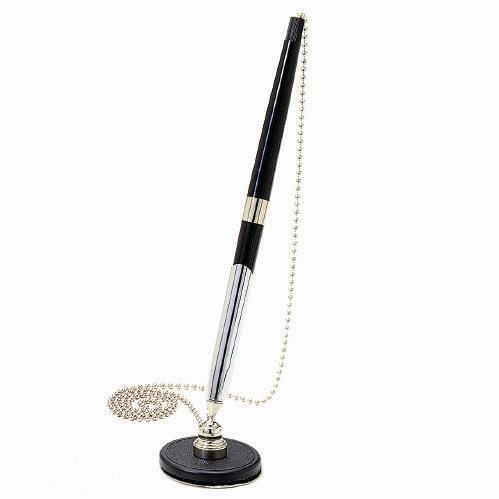 Chain-Riter Stick-On Counter Pens
Chrome plated metal swivel socket, pen holder and adhesive base hold pen with attached chain. Chain length is 26". Pen with Antimicrobial Protection and is available in black or blue ink. Pens sold individually.

Ink Color Vault number
Black ink, fine point CRBKF
Blue ink, medium point CRBUM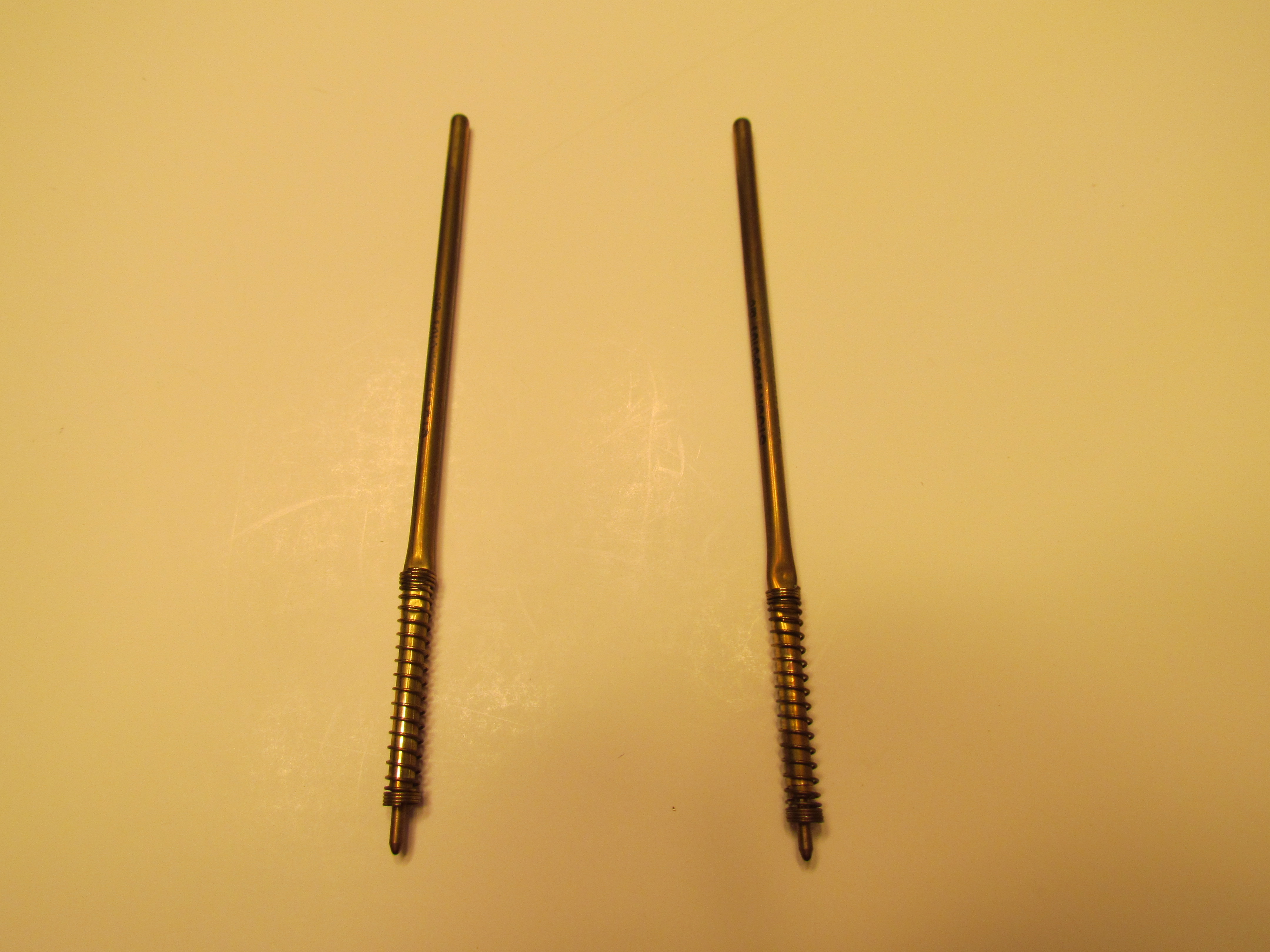 Standard Carbide Ballpoint Pen Refills
For all Wedgy Pens and Chain-Riter Stick-On Pens above in addition to most desk and pocket pens. Carbide tip construction. Available in Blue and Black ink and with Fraud-Resistant Security Black Ink to protect against tampering from check washing and document fraud. Packed 10 refills per pack.

Ink color Vault number
Black ink, fine point SCBPRBKF
Blue ink, medium point SCBPRBUM
Security Ink Black, fine point SCBPRSBKF





**Additional Pen and Refill styles are available, for details use Contact Us tab on our website or contact Roger Zavodny directly by e-mail at roger@myvaultllc.com or by phone at 440-346-4593.