Counterfeit Pens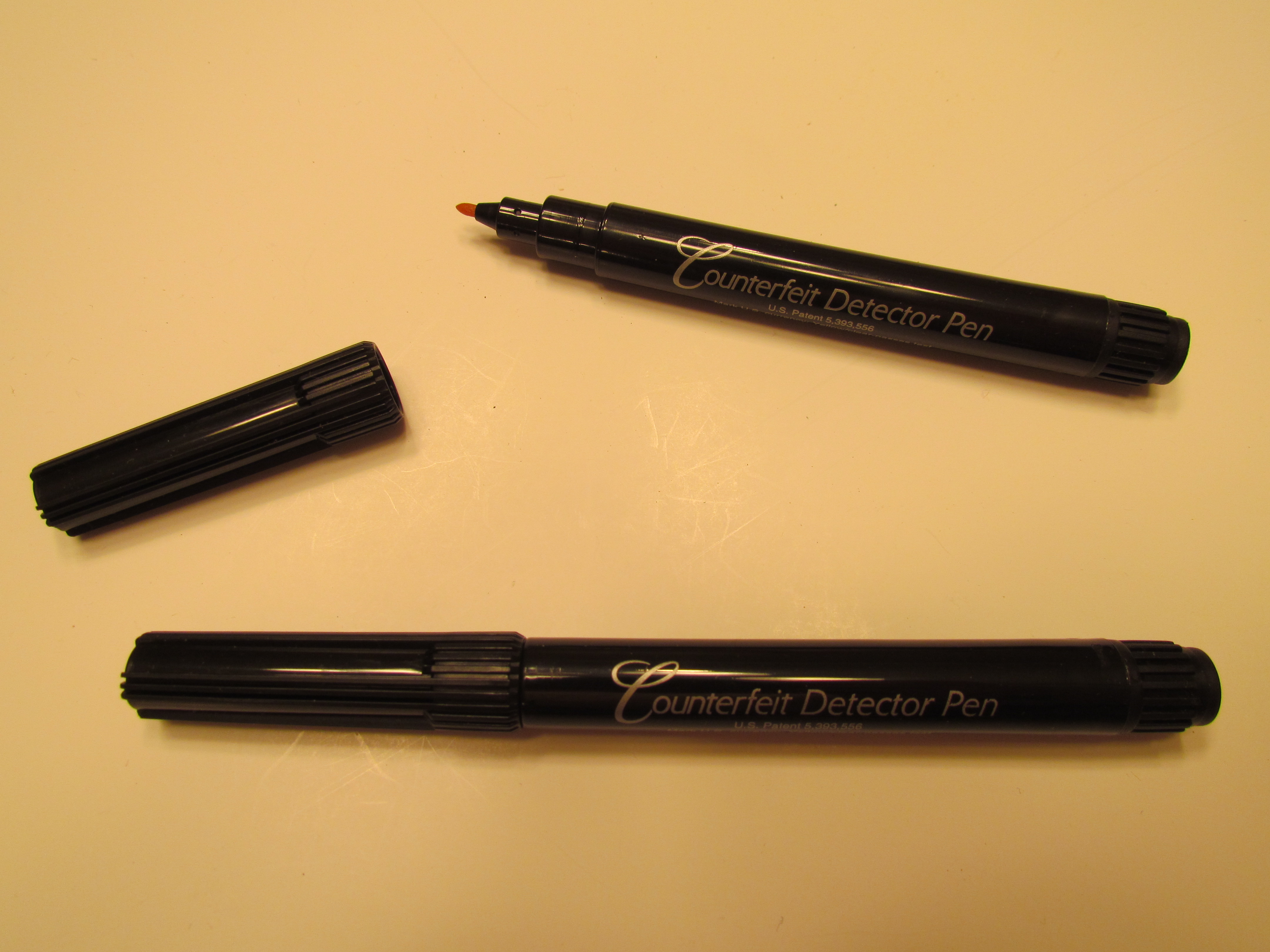 Counterfeit Money Detector Pen
Detect the authenticity of currency before it is accepted. Specially formulated ink checks the material of U.S. currency. An amber mark on U.S. Currency means the bill is geniune. Black/Dark Brown mark on U.S. Currency means billl is suspect. Counterfeit Pen is not guaranteed to detect all counterfeit bills. Ideal for use in conjuntion with other counterfeit detection methods. Custom Name/Logo printing available per request - Minimum for custom printing is 240 pens. Pens sold individually and with adhesive holder (pictured below).

Item Vault number
Counterfeit Money Detector Pen CMDPEN
Counterfeit Pen with Adhesive Holder CMDPENH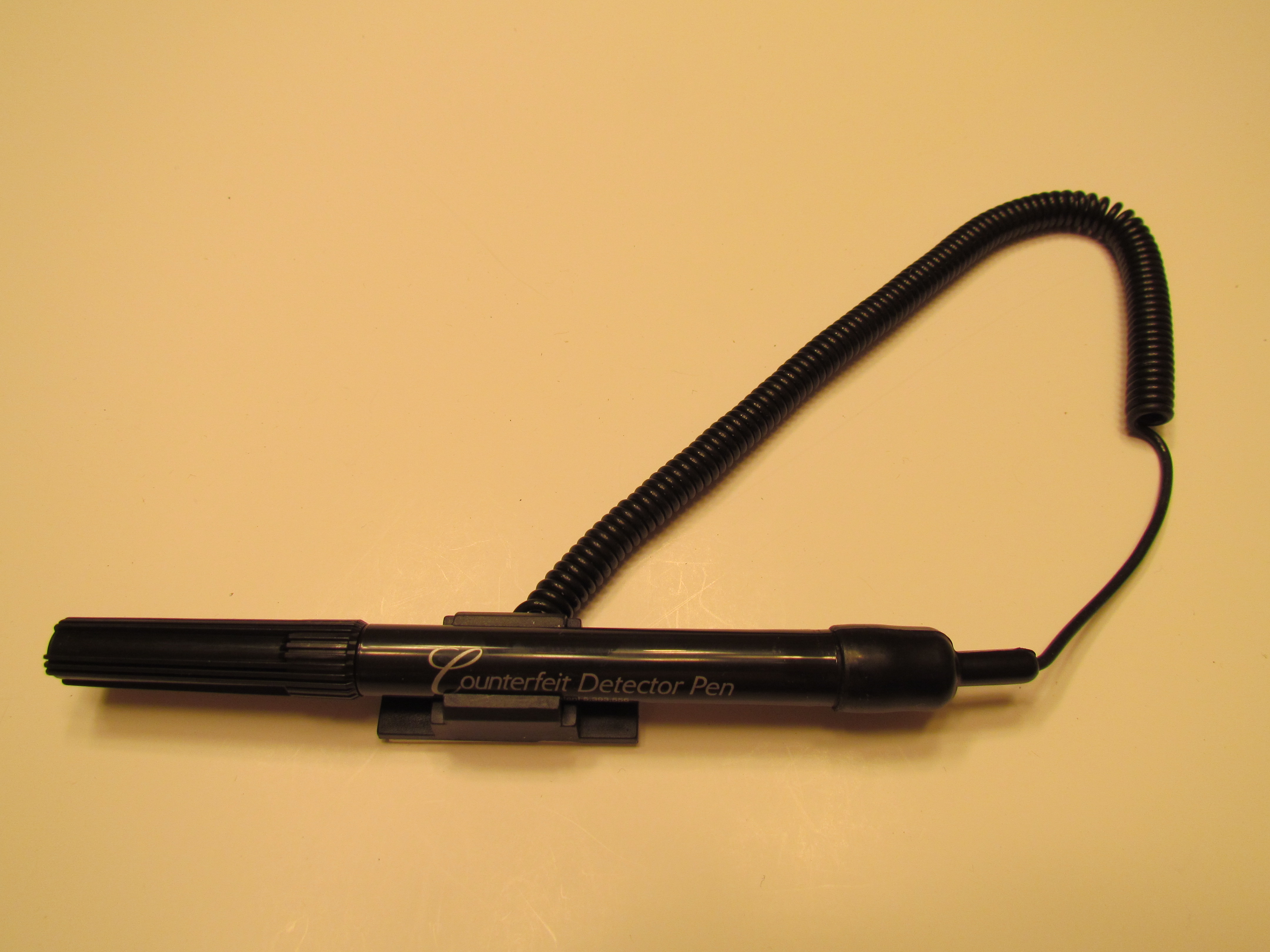 Counterfeit Currency Detector Pen
Similar to Counterfeit Money Detector Pen with additional clip on the cap. Counterfeit Pen is not guaranteed to detect all counterfeit bills. Custom printing not available on this style. Pens sold individually, in 3 pens per pack, in 12 pens per box, and with adhesive holder (pictured below).


Item Vault number
Single Counterfeit Money Detector Pen CCDPEN
3 Pack Counterfeit Money Detector Pens CCDPEN3
12 Box Counterfeit Money Detector Pens CCDPEN12
Single Counterfeit Pen with Adhesive Holder CCDPENH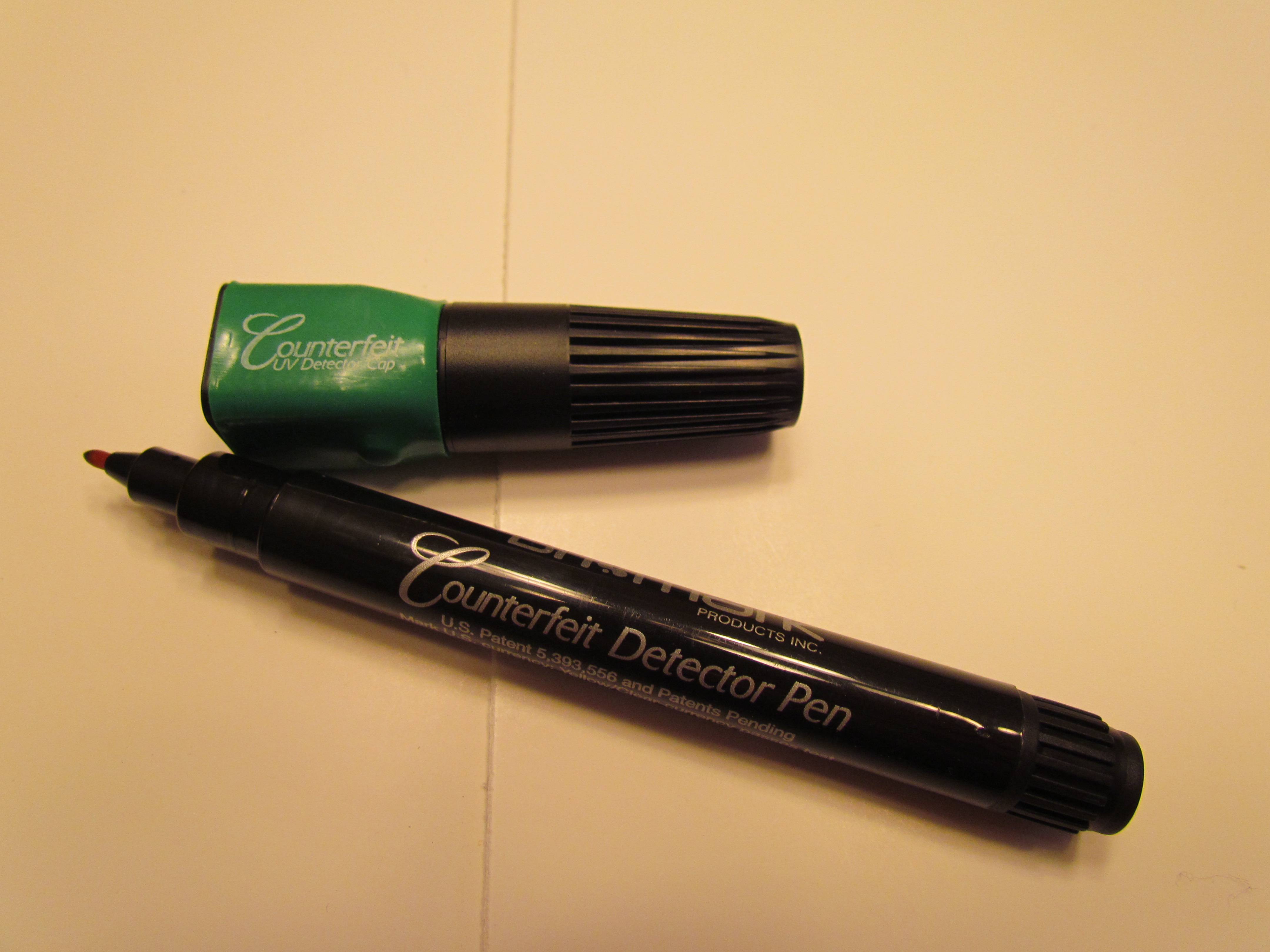 Counterfeit Detector Pen with UV Light Cap
Dual counterfeit tests in one item. Equipped with Counterfeit Money Detector Pen (details above) and with UV Light on cap to detect currency security thread. UV Light can also be used to check other documents such as credit cards, driver's licenses, passports, and most foreign currencies. Not guaranteed to detect all counterfeit bills. Sold individually, in a 3 pack, in a 12 pack, and with adhesive holder (pictured on far right).


Item Vault number
Single Pen with UV Light Cap CDPUV
3 pack Pen with UV Light Cap CDPUV3
12 pack Pen with UV Light Cap CDPUV12
Single Pen with UV Light Cap and Adhesive Holder CDPUVH







Counterfeit Detectors

Counterfeit Detection and Credit Card/ID Authenticator
4 in 1 Authenticator check U.S. Banknotes, Credit Cards, Traveler Checks, and Government ID's such as Drivers Licenses. Ultraviolet and White Fluorescent lamps aid in verification. New $ 100 Bill ready. Manual operation. Powered by the included AC Adapter. Dimensions 10.94"L X 5.91"D X 5.67"H

Vault number CDAMMII





Counterfeit Detection with Ultraviolet and Watermark detection
Dual counterfeit system using Ultraviolet and Watermark detection. UV lights visualize the security thread in U.S. notes or fibers and other features present in other currencies, credit cards, and special documents. Watermark screen verifies illustrations. New $ 100 bill ready. Manual operation. Powered by the included AC Adapter. Dimensions 7 1/4"L X 4 1/4"D X 4 3/4"H.

Vault number CDABD3







Counterfeit Detection with Automatic Detector system
U.S. Currency Auto Detector self-feeding counterfeit detection system. Feed Currency into detector and the Automatic counterfeit detector system checks for ultraviolet markings, magnetic ink, and infrared in less than 1 second per bill. An audible and visual warning notifies you if the bill passed or failed the test. New $ 100 Bill ready. Automatic operation. Powered by the included AC Adapter. Dimensions 5"L X 6"D X 3"H.

Vault number CDADAB4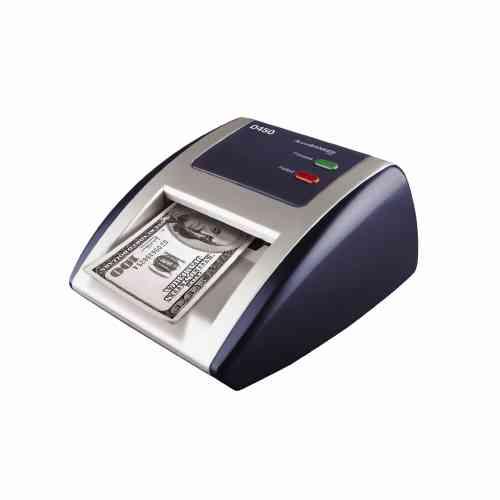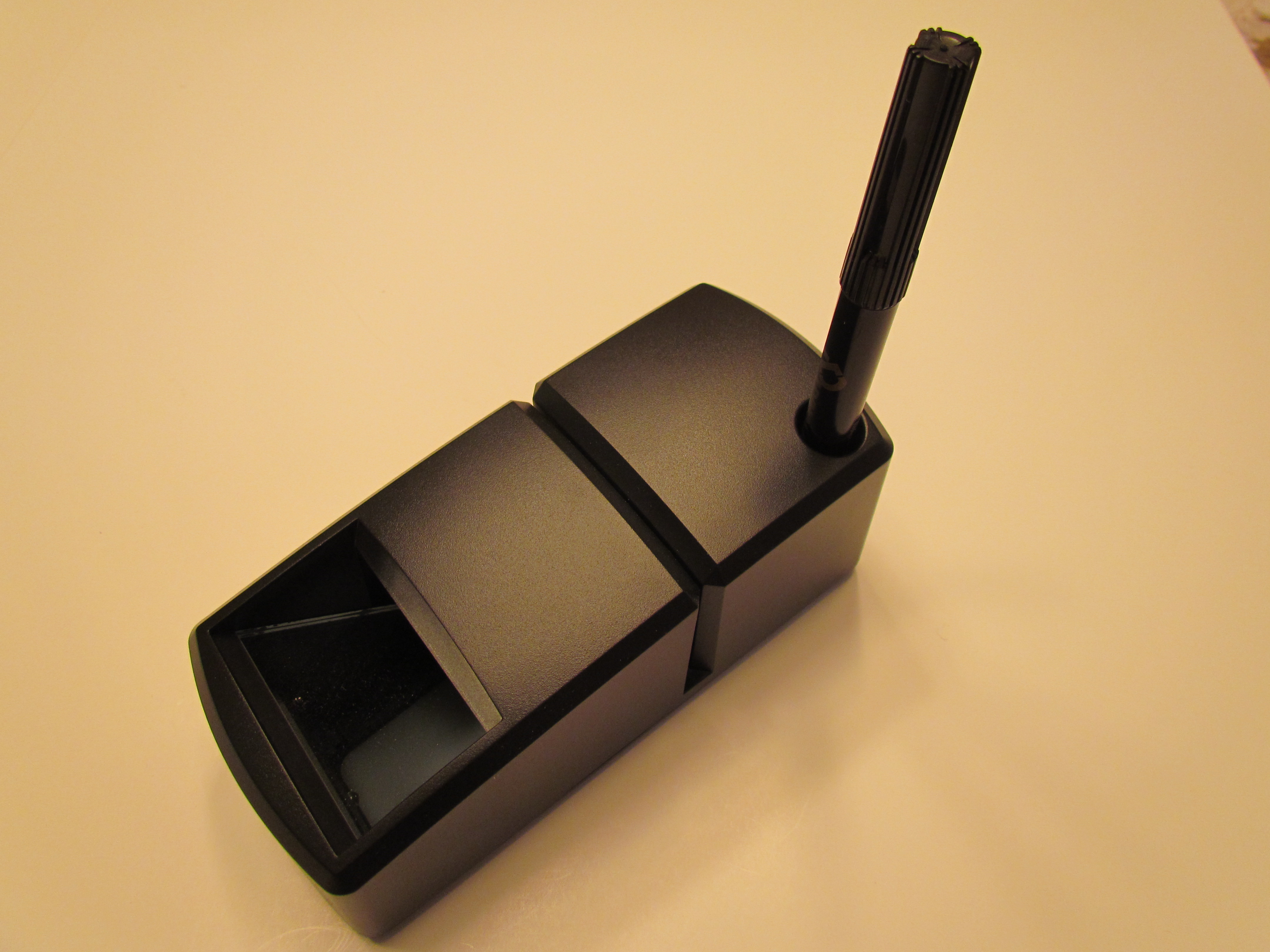 Portable LED and UV Counterfeit Detector with pen
Cordless and portable counterfeit detector provides triple protection against fraud. White LED reveals watermark portrait, ultraviolet light reveals UV security strip, and counterfeit detector pen (details above) authenticates the currency paper. The portable detector can also be used to check other documents such as credit cards, driver's licenses, most foreign currency, and traveler's checks. Not guarantedd to detect all counterfeit bills. Uses 3 AAA batteries, not included. New $ 100 Bill ready. Size 3"W X 2 1/2"H X 7"L. Sold individually.

Vault number CDLEDUVP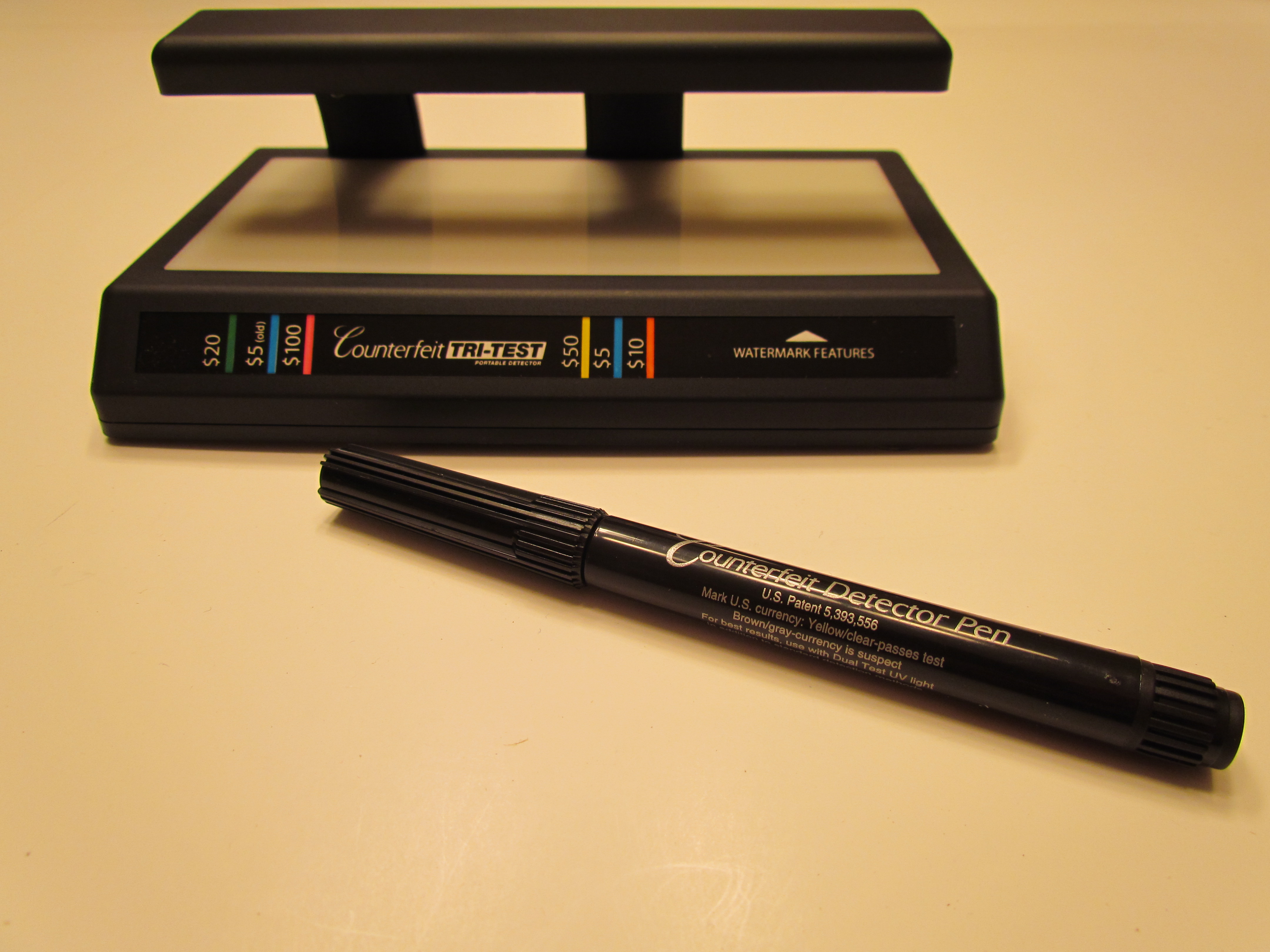 Tri Test Detector System
Cordless and portable counterfeit detector provides triple protection against fraud. White LED reveals watermark portrait, ultraviolet light reveals UV security strip, and counterfeit detector pen (details above) authenticates the currency paper. U.S. Currency thread position noted on front panel to assist in security thread position checking. The portable detector can also be used to check other documents such as credit cards, driver's licenses, most foreign currency, and traveler's checks. Not guarantedd to detect all counterfeit bills. Uses 3 AAA batteries, not included. New $ 100 Bill ready. Sold individually.

Vault number CDTTDS




**Additional Counterfeit Detector systems are available, for details use Contact Us tab on our website or contact Roger Zavodny directly by e-mail at roger@myvaultllc.com or by phone at 440-346-4593.